Tradition continues
Shakespeare Festival, Cortanovci from June 30 to July 5
03-07-2017
Cooperation with the Shakespeare Festival has also been successful continued this year. Before each performance, the director of the festival, Nikita Milivojevic and Dimitrije Vujadinovic, together with the actors of the performance, was breaking the traditional Serbian bread (pogaca). It is a symbol of a warm welcome and a wish for a successful performance. . more »
Presentation of the book - Cipovka bread
City library - Novi Sad, May 16
.
Baker & Confectioner
Baker & Confectioner is magazine with aim to inform, educate and connect all stakeholders in this segment of the economy - mills, small family bakeries and confectioneries, large industrial manufacturers of breads, pastries, cakes and all the necessary ingredients in bakery and confectionery.Dimitrije Vujadinović is a permanent contributor to the magazine and writes about the history and culture of bread..
Le Cipovka
Notre ami serbe, Dimitrije Vujadinović a le plaisir et le joie de nous informer que, sur sa proposition, la Commission nationale du patrimoine culturel immatériel de Serbie a déclaré la  fabrication du pain traditionnel de la province de Voïvodine, le Cipovka, patrimoine culturel national. more »
Great New Year's news
Velika novogodišnja vest
National Commissions for intangible cultural heritage has accepted the skills of making traditional Vojvodina bread - Cipovka, as  intangible heritage. 
Nacionalna komisija za nematerijalno  културно  nasleđe prihvatila je umeće pravljenja  tradicionalnog vojvođanskog hleba - cipovke, . more »
Presentation of the bread - Cipovka
Petar Kocic Library, Belgrade, November 04
About his experiences in the making of bread and special characteristics of the bread - Cipovka spoke Bogdan Ibrajter, publicist, editor Jovo Vukelić and Dimitrije Vujadinović author of the book - Cipovka. . more »
Pogaca and naan
On the occasion of Gandhi's birthday and the International Day of Non-Violence commemorative events held in front of the monument of Gandhi in Belgrade at 15 October . The event was attended by Jitendra Singh, Minister of State in the Government of India and Smt.Nirander Chauhan, the Ambassador of India. . more »
Gathering with professional bakers
Discussion and presentation of the book about traditional bread in Vojvodina - cipovka, there was at the Annual meeting of bakers and millers from Serbia held from 6 to 8 October in Novi Sad. The speakers were: Pavle Malesev, journalist and publicist, Sima Matic, editor and Dimitrije Vujadinovic, author of the book. Attendees had the opportunity to taste a slice of bread cipovka weighing seventh kilograms. . more »
The European Museum of the Year Award (EMYA)
On the proposal of the national selectors Serbian Museum of Bread - Jeremija competes for the prestigious award under the auspices of the Council of Europe - The European Museum of the Year Award (EMYA) 2017. .The rapporteur from the Council of Europe prof. dr Maria Mouliou visited the Museum. The founder and owner of the museum Slobodan Jeremić Jeremija was informed the guest with a collection and activities of the Serbian museum of bread. The meeting was also attended by wife Biljana Jeremic, daughter Jelena Jeremić, Dimitrije Vujadinović permanent associate of the museum and Danica Radovic, a journalist.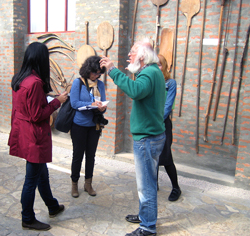 The story of the Mill
Priča o mlinu - Ruma, 13/07-13/08
Great Exhibition (24 panels - 70 x 100 cm) opened in Regional Museum in Rum.  . more »